Welcome to
"Who's Been Messin' Up the Bulletin Board?" (WBMUTBB).
The Original on-line chapter of "The Andy Griffith Show" Rerun Watchers Club.
For background music click
play
.
---
Welcome to Mayberry!!
We'd like to welcome you to Who's Been Messing Up the Bulletin Board (WBMUTBB)
and we invite you to join us here in our little corner of Mayberry.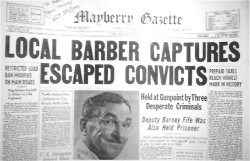 Click for larger Image